HF Portas e Automatismos SA company, was founded in 2004, aiming to be a young and dynamic enterprise, and providing the best quality products for costumers. The company specializes in manufacturing sectional doors, automatic glass doors and high speed doors, also offering a great variety of options in the automations area.
The progressive growth and consistency that the company has had are only achieved several golas. Following this philosophy, HF Portas e Automatismos SA, has been awarded with the PME Excellence and PME Leader in 2018 (National Recognition Awards). Product development, quality manufacturing, raw materials, aesthetic presentation, ability to engage with customers, comply with deadlines and after sales service; the characteristics listed above resulted in the certification quality under ISO 9001, obtained in 2015.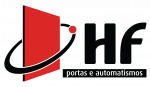 The panel, an essential component in the manufacture of a sectional door, was selected for DOORGATE, owing to the highest safety, robustness, isolation, color, texture and appearance. Consisting of two galvanized steel plate with an inner high-density polyurethane foam and a thickness of 40mm, wich together with a suitable gasket, provide the maximum heat insulation, sound and good tightness, thus guaranteeing a great confort to housing.
DOORGATE is the brand of our company, which was created to equip our costumers with high quality products that reflect the excellence of our manufacturing.
When choosing DOORGATE, our customers recognize the care, knowledge, innovation, and differentiation of the products we create for them, and this guarantees success in our clients partnership, a key condition for achievement in an increasingly demanding market.

High Speed Doors DOORGATE have an innovative design that combines aesthetics, mounting simplicity and efficiency.
The use of noble materials such as aluminum and stainless steel gives them a higher resistance to existing options on the market,
making it the ideal solution for environments requiring a great isolation.
We are the representatives in Portugal of the renowned italian brand ROGER TECHNOLOGY. ROGER TECHNOLOGY is currently one of the major players on a worldwide level in the sector of gates automation and priority vehicle automatic barrier systems, with a slaes presence in more than 100 countries around the word.

A HF Portas e Automatismos SA is a representative in Portugal of the renowned italian
automation brand ROGER TECHNOLOGY. We have a wide of automation solutions and specialized technicians
that can assist in the most appropriate selection.
FIRE AND MULTIPURPOSE DOORS
DOCK SHELTERS AND LOADING BAYS
In HF Portas e Automatismos
the client
the quality
the innovation
the know how
is first!